This month we've finally had the much-anticipated launch of the Laptop Studio! Our Surface family is expanding and with so many choices it's sometimes hard to work out what's the best fit for an organisation.
We expect our devices to do what we want them to do, when we want them to do it. Honestly, who wants a device that can't handle multitasking, lags or just hangs. In this age of Hybrid working, we need a device that works for us, not the other way round.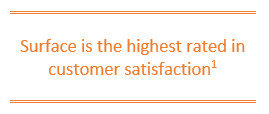 When we think about modern workers, they are the people that drive strategy, sales, finance, and operations for an organization – these people are us.
We want a battery life that allows us to work all day without having to be tethered to one place. However, with that battery life, we don't want to compromise, we still want a processor and operating system that allows us to do multiple things at once.
With the ongoing rise in virtual meetings, we know that the best mics and cameras are paramount to ensure that when presenting virtually, we're showing up as our best self. When we work at the desk, we want the opportunity to seamlessly plug into all the peripherals that we need.
We want a device that suits our work style.
This isn't an easy list to ensure all the boxes get ticked, but Microsoft has designed Surface to guarantee we get the power, battery life (uncompromised), multiple ports and multiple screen options in a lightweight device.

Hybrid work is here to stay and its time to reimagine workplace flexibility and have access to devices that fits us.
Hybrid work is here to stay and it's time to reimagine workplace flexibility and start looking at the Surface premium business devices to start ticking those boxes!
We have Surface Laptop 4, the new Surface Pro 8, and the Laptop Studio within the business portfolio that can offer the right mix to fit everyone.
The Surface Laptop 4 is still one of our most popular Surface models as it has the perfect balance of style, performance, and speed in an ultra-slim laptop without compromises.
The Surface Pro 8 is the ultimate 2-in-1 that can go anywhere, then adapt into full workstation for a desktop experience. It offers more power and performance than any other Pro and combines the power of a laptop with the flexibility of a tablet and every angle in between.
The Surface Laptop Studio offers incredible performance and delivers the highest graphics horsepower of any Surface Laptop. Surface Laptop Studio enables seamless transition from best-in-class laptop, to a natural angle for docking to a full-performance canvas.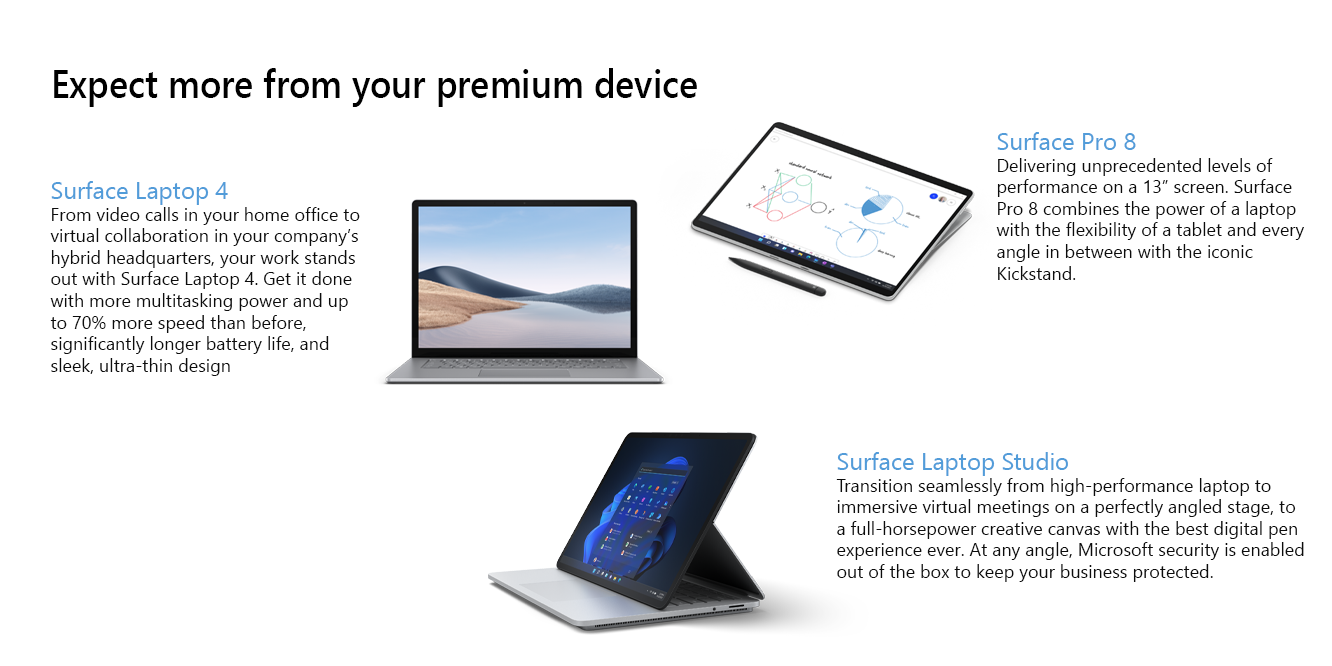 Not only does the device need to work for you, but you also need to make sure you are secure.
IT environments are increasingly complex due to hybrid working. Growing cyber threats require more advanced security across devices, users, apps, and their data and now more than ever organisations need to provision and deploy devices remotely without sacrificing security.
Microsoft has long been a leader in security, and it's integrated directly into the Surface portfolio.
Full-stack security out of the box -

BitLocker, firmware TPM chips, and cloud-powered Microsoft 365 Defender come preconfigured on a Surface device.
Stay secure from chip to cloud - Microsoft Endpoint Manager* and DFCI1

provide complete and seamless device management down to the firmware layer on most Surface devices.
Ensure data privacy and compliance - Whether it's an end-of-life or service event, stay in control of your data with removable SSDs (available on selected devices).

Remotely manage

IT environments -

Microsoft Intune lets you see all your managed, co-managed, and partner-managed devices in one place.
Simplify device management - With

Microsoft Surface Management Portal, IT admins can self-serve, manage, and monitor their fleet of Surface devices at scale in Microsoft Endpoint Manager.

Microsoft Surface ticks all boxes so make the most of what Microsoft Surface has to offer and the next time you're looking at a device, look at how modern deployment could work for you and have device security available at your fingertips.
You have the highest graphics horsepower of any Surface, allowing you to create a top speed using NVIDIA's 2nd gen RTX architecture and enabling ray-traced graphics – which simulates how light behaves in the real-world to produce the most realistic and immersive graphics (i7 models only) and with the Quad-core powered 11th Gen Intel® processors, the Laptop Studio can handle the most complex workloads and passionate multi-taskers.
1Source: Global State of Surface Report June 2019
*Sold separately.