Aruba Instant On, or Aruba Instant: which one's right for you?
Aruba recently released Instant On, an all-in-one access point solution that promises to simplify, streamline, and secure both wired and wireless networks for business. However, it sounds suspiciously similar to Aruba Instant, which also offers all-in-one connectivity for businesses with complex networking needs. With names nearly the same, it's easy to get confused between the two solutions. So, what's the difference, and which one's right for your business?
It's all about scale (mostly)
The primary difference between the Instant On and Instant Access Points is who they're designed for. Aruba has designed Instant On to meet the needs of small businesses, particularly those that don't employ dedicated IT experts to actively manage their network infrastructure. The Instant range, on the other hand, is focused on meeting larger enterprise needs at scale – which means it's best handled by IT managers with some network proficiency.

Is Aruba Instant On just a stripped-down version of the company's well-established enterprise product? Despite being intended for small businesses, Instant On still supports up to 25 Instant On Devices (a mix of access points and switches) at a single site, as well as incorporating much of the performance and flexibility that Instant already offers at an enterprise level.

Growing at what pace?
Instant On's features fit particularly well with the needs of small businesses that are transitioning to digital sales/marketing platforms and remote working – the sort that expect to double or triple network capacity without having to worry about upgrading or making changes to their network. These features include:
Managing the network anywhere, anytime

via a mobile app or cloud portal designed especially for non-technical users
One-touch setup

for mesh networks and access points - where adding additional access points is as simple as powering on and clicking once
No licenses, subscriptions, or extra fees of any kind

as the business expands its network, with all additional costs absorbed into the hardware purchase itself
These features make growth at speed as painless as possible for smaller businesses, presenting network management and optimisation in simple terms without compromising on performance. For large enterprises, where managing complexity and volume takes priority over the sheer pace of growth, Instant addresses key pain points with higher levels of control and customisation than Instant On. These include much higher thresholds on access points and user devices, as well as broader multi-vendor support and easier upgradability to more advanced mechanisms like controller-based access points.

Security for every season
Despite some variations in security levels between Aruba Instant On and Aruba Instant, both offer built-in security that's designed to insure data and applications against attack from Day 0. Instant On comes with inbuilt firewalling, web blocking, and user blocking controls that are activated by default to simplify securing the network. Admins can also streamline their networks with tools not available in most comparable solutions from other vendors – such as the ability to regulate Wi-Fi traffic, prioritise voice and video, or dynamically optimise radio frequencies of wireless access points.

Given that as many as 49% of data breaches occur because of human error, simplifying security and the overall user experience for nontechnical users plays a key role in how Instant On minimises cyber risks for small businesses.

Aruba Instant, on the other hand, acknowledges the complex threat landscape facing large enterprises with granular definitions for user roles, context-driven firewall policies (that can filter according to devices, locations, apps, and more), and integration with third-party services like Palo Alto Networks' dedicated firewalls. Most of these features require more advanced technical knowledge and dedicated IT support, and won't be missed by smaller businesses which Instant On caters to.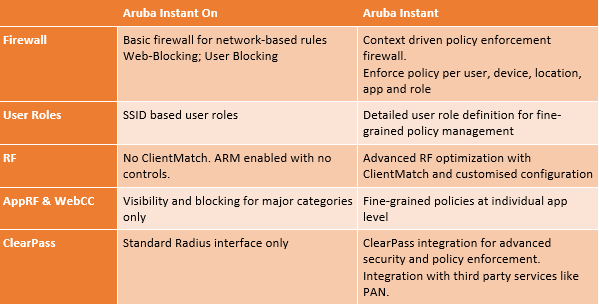 Finding the right fit in an instant
Instant On's combination of scalability and simplicity make it an ideal out-of-the-box solution for small businesses looking for long-term value in their investment without too much fuss. The solution works particularly well across smaller numbers of sites which nevertheless have high demands on bandwidth quality and security like retailers, restaurants, medical centres, online learning, and even remote workers requiring access to business-critical applications – an increasingly common use case in these times.

For enterprises that already have complex multisite footprints, or are expecting to require significant amounts of network customisation and scaling in the near future, the Aruba Instant range offers the more viable solution. When small businesses are scaling upwards to a mid or enterprise sized business, Instant On deployments unfortunately cannot be "upsized" to Instant, and business owners have to purchase new hardware.

Keen to scale up your network performance and agility for fast-changing business needs? Get in touch with our Aruba team to find out how Aruba Instant On or Aruba Instant can work for you.